Anarcho-Syndicalist Gadsden T-Shirt
This design combines the tried and true red and black Anarcho-Syndicalist flag with the rattlesnake and slightly modified text of the Gadsden flag, repurposing it to meet OUR needs and issue a warning to the established hierarchy not to question our commitment or solidarity. The back features a small modern rendering of the three arrows symbol originally used by the antifascist Iron Front.

Red ink on a Black union-made, union-printed shirt.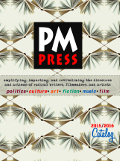 Your cart is currently empty
Subtotal: $0.00