Lickin' The Beaters T-Shirt
Don't pass up dessert! Even if you are vegan or trying to eat healthy there's no reason to deny yourself sweet treats. Or cool T shirts. Like this American made yellow T shirt with the stylish Lickin' the Beaters book cover graphic in red on the front, and the 'classic' Eric Drooker logo in red on the back.
Fitting Guide: These shirts are made by American Apparel and tend to fit a bit small. The woman's cut large is a slightly more fitted version of the regular small T-shirt.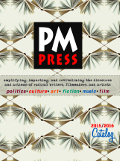 Your cart is currently empty
Subtotal: $0.00