Philosophical Underpinnings of Anarchism Combo Pack
SKU:
Underpinnings of Anarchism Pack
Please note: Due to the killer deal being offered, Combo Packs are not available for any further discount to resale customers or Friends of PM.
A great combo pack of four collections on the philosophical underpinnings of anarchism in its many facets for over $25 off the retail price and includes:
Outrage: An Anarchist Memoir of the Penal Colony by Clément Duval
Anarchy, Geography, Modernity: Selected Writings of Elisée Reclus by Elisée Reclus and edited by John P. Clark and Camille Martin
A Living Spirit of Revolt: The Infrapolitics of Anarchism by Žiga Vodovnik
Liberating Society from the State and Other Writings: A Political Reader by Erich Mühsam and edited by Gabriel Kuhn
Outrage: An Anarchist Memoir of the Penal Colony: In 1887, Clément Duval joined the tens of thousands of convicts sent to the "dry guillotine" of the French penal colonies. Few survived and fewer were able to tell the stories of their life in that hell. Duval spent fourteen years doing hard labor—espousing the values of anarchism and demonstrating the ideals by being a living example the entire time—before making his daring escape and arriving in New York City, welcomed by the Italian and French anarchists there.
This is much more than an historical document about the anarchist movement and the penal colony. It is a remarkable story of survival by one man's self-determination, energy, courage, loyalty, and hope. It was thanks to being true and faithful to his ideals that Duval survived life in this hell. Unlike the well-known prisoner Papillon, who arrived and dramatically escaped soon after Duval, he encouraged his fellow prisoners to practice mutual aid, through their deeds and not just their words. It is a call to action for mindful, conscious people to fight for their rights to the very end, to never give up or give in.
More than just a story of a life or a testament of ideals, here is a monument to the human spirit and a war cry for freedom and justice.
See and hear editor interviews, book reviews, and other news on Clément Duval's page HERE
Anarchy, Geography, Modernity: Selected Writings of Elisée Reclus is the first comprehensive introduction to the thought of Elisée Reclus, the great anarchist geographer and political theorist. It shows him to be an extraordinary figure for his age. Not only an anarchist but also a radical feminist, anti-racist, ecologist, animal rights advocate, cultural radical, nudist, and vegetarian. Not only a major social thinker but also a dedicated revolutionary.
The work analyzes Reclus' greatest achievement, a sweeping historical and theoretical synthesis recounting the story of the earth and humanity as an epochal struggle between freedom and domination. It presents his groundbreaking critique of all forms of domination: not only capitalism, the state, and authoritarian religion, but also patriarchy, racism, technological domination, and the domination of nature. His crucial insights on the interrelation between personal and small-group transformation, broader cultural change, and large-scale social organization are explored. Reclus' ideas are presented both through detailed exposition and analysis, and in extensive translations of key texts, most appearing in English for the first time.
See and hear editor interviews, book reviews, and other news on John P. Clark's page HERE and Camille Martin's page HERE
A Living Spirit of Revolt: The Infrapolitics of Anarchism : "The great contribution of Žiga Vodovnik is that his writing rescues anarchism from its dogma, its rigidity, its isolation from the majority of the human race. He reveals the natural anarchism of our everyday lives, and in doing so, enlarges the possibilities for a truly human society, in which our imaginations, our compassion, can have full play." —Howard Zinn, author of A People's History of the United States, from the Introduction
At the end of the nineteenth century, the network of anarchist collectives represented the first-ever global antisystemic movement and the very center of revolutionary tumult. In this groundbreaking and magisterial work, Žiga Vodovnik establishes that anarchism today is not only the most revolutionary current but, for the first time in history, the only one left. According to the author, many contemporary theoretical reflections on anarchism marginalize or neglect to mention the relevance of the anarchy of everyday life. Given this myopic (mis)conception of its essence, we are still searching for anarchism in places where the chances of actually finding it are the smallest.
See and hear author interviews, book reviews, and other news on Žiga Vodovnik's page HERE
Liberating Society from the State and Other Writings: A Political Reader: Erich Mühsam (1878-1934), poet, bohemian, revolutionary, is one of Germany's most renowned and influential anarchists. Born into a middle-class Jewish family, he challenged the conventions of bourgeois society at the turn of the century, engaged in heated debates on the rights of women and homosexuals, and traveled Europe in search of radical communes and artist colonies. He was a primary instigator of the ill-fated Bavarian Council Republic in 1919 and held the libertarian banner high during a Weimar Republic that came under increasing threat by right-wing forces. In 1933, four weeks after Hitler's ascension to power, Mühsam was arrested in his Berlin home. He spent the last sixteen months of his life in detention and died in the Oranienburg Concentration Camp in July 1934.
Mühsam wrote poetry, plays, essays, articles, and diaries. His work unites a burning desire for individual liberation with anarcho-communist convictions, and bohemian strains with syndicalist tendencies. The body of his writings is immense, yet hardly any English translations have been available before now. This collection presents not only Liberating Society from the State: What is Communist Anarchism?, Mühsam's main political pamphlet and one of the key texts in the history of German anarchism, but also some of his best-known poems, unbending defenses of political prisoners, passionate calls for solidarity with the lumpenproletariat, recollections of the utopian community of Monte Verità, debates on the rights of homosexuals and women, excerpts from his journals, and essays contemplating German politics and anarchist theory as much as Jewish identity and the role of intellectuals in the class struggle.
An appendix documents the fate of Zenzl Mühsam, who, after her husband's death, escaped to the Soviet Union where she spent twenty years in Gulag camps.
See and hear editor interviews and book reviews on Gabriel Kuhn's page HERE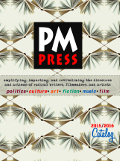 Your cart is currently empty
Subtotal: $0.00