Please note: Due to the deal being offered, Combo Packs are not available for any further discount to resale customers or Friends of PM.
Also please note, the PM Press messenger bag is not included in the combo pack.
A great combo pack that peaks into the underbelly of the UK Anarcho Punk phenomenon for $10 off the retail price and includes:
The Primal Screamer by Nick Blinko
The Story of Crass by George Berger
The Primal Screamer is a Gothic Horror novel about severe mental distress and punk rock. The novel is written in the form of a diary kept by a psychiatrist, Dr. Rodney H. Dweller, concerning his patient, Nathaniel Snoxell, brought to him in 1979 because of several attempted suicides. Snoxell gets involved in the nascent UK anarcho-punk scene, recording EPs and playing gigs in squatted Anarchy Centers. In 1985, the good doctor himself "goes insane" and disappears.
This semi-autobiographical novel from Rudimentary Peni singer, guitarist, lyricist, and illustrator Nick Blinko, plunges into the worlds of madness, suicide, and anarchist punk. Lovecraft meets Crass in the squats and psychiatric institutions of early '80s England. This new edition collects Blinko's long sought after artwork from the three previous incarnations.
See and hear author interviews, book reviews, and other news on Nick Blinko's page HERE
The Story of Crass is about Crass, the anarcho-punk face of a revolutionary movement founded by radical thinkers and artists Penny Rimbaud, Gee Vaucher, and Steve Ignorant. When punk ruled the waves, Crass waived the rules and took it further, putting out their own records, films, and magazines and setting up a series of situationist pranks that were dutifully covered by the world's press. Not just another iconoclastic band, Crass was a musical, social, and political phenomenon.
Commune dwellers who were rarely photographed and remained contemptuous of conventional pop stardom; their members explored and finally exhausted the possibilities of punk-led anarchy. They have at last collaborated on telling the whole Crass story, giving access to many never-before-seen photos and interviews.
See and hear author interviews, book reviews, and other news on George Berger's page HERE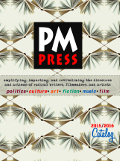 Your cart is currently empty
Subtotal: $0.00