Punk Rock Interviews Combo Pack
Please note: Due to the deal being offered, Combo Packs are not available for any further discount to resale customers or Friends of PM.
Also please note, the cassette mix-tape shown does not come with the combo pack.
A great combo pack of interviews and conversations with the best, most rebellious, most influential (and sometimes most outlandish) Punk Rockers in the musical movement's history that saves you $10 off the regular retail price and includes:
Punk Rock: An Oral History by John Robb
Left of the Dial: Conversations with Punk Icons by David Ensminger
Punk Rock: An Oral History explores the a do-it-yourself ethos that allowed anyone to take part in the punk rock scene. Vibrant and volatile, the punk scene left an extraordinary legacy of music and cultural change. John Robb talks to many of those who cultivated the movement, such as John Lydon, Lemmy, Siouxsie Sioux, Mick Jones, Chrissie Hynde, Malcolm McLaren, Henry Rollins, and Glen Matlock, weaving together their accounts to create a raw and unprecedented oral history of UK punk. All the main players are here: from The Clash to Crass, from The Sex Pistols to the Stranglers, from the UK Subs to Buzzcocks—over 150 interviews capture the excitement of the most thrilling wave of rock 'n' roll pop culture ever. Ranging from its widely debated roots in the late 1960s to its enduring influence on the bands, fashion, and culture of today, this history brings to life the energy and the anarchy as no other book has done.
See and hear author interviews and book reviews on John Robb's Author page HERE
Left of the Dial: Conversations with Punk Icons features interviews by musical journalist, folklorist, educator, and musician David Ensminger with leading figures of the punk underground: Ian MacKaye (Minor Threat/Fugazi), Jello Biafra (Dead Kennedys), Dave Dictor (MDC), and many more. Ensminger probes the legacy of punk's sometimes fuzzy political ideology, its ongoing DIY traditions, its rupture of cultural and social norms, its progressive media ecology, its transgenerational and transnational appeal, its pursuit of social justice, its hybrid musical nuances, and its sometimes ambivalent responses to queer identities, race relations, and its own history. Passionate, far-reaching, and fresh, these conversations illuminate punk's oral history with candor and humor.
Interviews include Peter Case (Nerves, Plimsouls), Captain Sensible (The Damned), Tony Kinman (The Dils), El Vez, Charlie Harper (UK Subs), The Deaf Club (an oral history of the landmark San Francisco club), Mike Palm (Agent Orange), Gregg Turner (Angry Samoans), Ian MacKaye (Minor Threat, Fugazi), Jello Biafra (Dead Kennedys), Gary Floyd (Dicks, Sister Double Happiness), Mike Watt (Minutemen, fIREHOSE), Shawn Stern (Youth Brigade), Kira Roessler (Black Flag, Dos), Jack Grisham (TSOL), Keith Morris (Circle Jerks, Off!) Fred "Freak" Smith (Beefeater), U-Ron Bondage (Really Red), Vic Bondi (Articles of Faith), Lisa Fancher (Frontier Records), Dave Dictor (MDC), and Thomas Barnett (Strike Anywhere).
See and hear author interviews, book reviews, and other news on David Ensminger's page HERE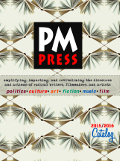 Your cart is currently empty
Subtotal: $0.00