Please note: Due to the killer deal being offered, Combo Packs are not available for any further discount to resale customers or Friends of PM.
Black Flag were the pioneers of American Hardcore, and this combo pack explores their history and cultural influence. This combo pack saves you $10 off the regular retail price and includes:
Barred for Life: How Black Flag's Iconic Logo became Punk Rock's Secret Handshake by Stewart Dean Ebersole and photographer Jared Castaldi.
and
Spray Paint the Walls: The Story of Black Flag by Stevie Chick
Barred for Life: How Black Flag's Iconic Logo became Punk Rock's Secret Handshake is a photo documentary cataloging the legacy of American Punk Rock pioneers Black Flag, through stories, interviews, and photographs of diehard fans who wear their iconic logo, The Bars, conspicuously tattooed upon their skin. Author Stewart Dean Ebersole provides a personal narrative describing what made the existence of Punk Rock such an important facet in his and many other people's lives, and the role that Black Flag's actions and music played in soundtracking the ups-and-downs of living as self-imposed cultural outsiders.
Ebersole and photographer Jared Castaldi's stark black-and-white portraits provide visual testimony to the thesis that Black Flag's factual Punk-pioneering role and their hyper-distilled mythology are now more prevalent worldwide then when the band was in service.
See and hear author interviews and book reviews on Stewart Dean Ebersole's page HERE
Spray Paint the Walls tells Black Flag's story from the inside, drawing on exclusive interviews with the group's members, their contemporaries, and the bands they inspired. It's the story of Henry Rollins, and his journey from fan to iconic frontman. And it's the story of Greg Ginn, who turned his electronics company into one of the world's most influential independent record labels while leading Black Flag from punk's three-chord frenzy into heavy metal and free-jazz. Featuring over 30 photos of the band from Glen E. Friedman, Edward Colver, and others.
See and hear editor interviews, book reviews, and other news on Stevie Chick's page HERE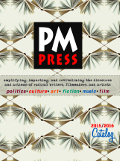 Your cart is currently empty
Subtotal: $0.00