Vegan Books: Desserts & more Combo Pack
Please note: Combo Packs are not available for any further discount to resale customers or Friends of PM.
This Vegan Books: Desserts & more combo pack includes:
More than just a rousing food manifesto and a nifty set of tools, Cook Food: A Manualfesto for Easy, Healthy, Local Eating by Lisa Jervis, makes preparing tasty, wholesome meals simple and accessible for those hungry for both change and scrumptious fare. If you're used to getting your meals from a package--or the delivery guy--or if you think you don't know how to cook, this is the book for you.
See and hear author interviews, book reviews, and other news on the Lisa Jervis's page HERE
Don't pass up dessert! Even if you are vegan or trying to eat healthy there's no reason to deny yourself sweet treats.
Lickin' the Beaters: Low Fat Vegan Desserts by Siue Moffat brings you over 80 fabulous low fat, dairy free desserts where even the second helping is guilt free. Breads, cakes, donuts, candies, cookies and bars, pies, ice creams, puddings, toppings, fruity stuff, drinks, and a whole lot more. Illustrated with beautiful linocuts and zany cartoons, you'll find the recipes fun, easy to follow and so good you'll eat half the batter.
See and hear author interviews, book reviews, and other news on the Siue Moffat's page HERE
The beaters go on--in Lickin' The Beaters 2: Vegan Chocolate and Candy, the second of Siue Moffat's fun vegan dessert cookbooks.
Themed around the duality of dessert--an angel on one shoulder and a devil on the other--Siue takes chocolate, candy and even ice creem (vegan alternative to ice cream) head-on with quirky illustrations, useful hints and a handy "Quick Recipe" indicator to make using this book simple and amusing. With an understanding that dessert should be an indulgence, Moffat provides vegan renditions of tantalizing delicacies both traditional and original.
Recipes include old favorites such as Carmel Corn, Salt Water Taffy, Pralines, Cookies, Cakes and Fudge as well as some brave new recipes like Fabulous Flourless Chocolate Torte and Toll-Free Chocolate Chip cookies.
See and hear author interviews, book reviews, and other news on the Siue Moffat's page HERE
All across North America, people are looking to make better choices, but also eat healthier, more environmentally friendly and, most of all, great tasting food. New American Vegan by Vincent Guihan breaks from a steady stream of cookbooks inspired by fusion and California cuisines that put catchy titles and esoteric ingredients first in their efforts to cater to a cosmopolitan taste. Instead, Vincent goes back to his Midwestern roots to play a humble but important role in the reinvention of American cuisine while bringing the table back to the center of American life.
Weaving together small town values, personal stories and 120 great recipes, New American Vegan delivers authentically American food that simply has to be tasted to be believed. Recipes range from very basic to the modestly complicated, but always with an eye on creating something that is both beautiful and delicious while keeping it simple. Clear instructions provide step by steps, but also help new cooks find their feet in the kitchen, with a whole chapter devoted just to terms, tools and techniques. With an eye towards improvisation, the book provides a detailed basic recipe that's good as-is, but also provides additional notes that explain how to take each recipe further, to increase flavor, to add drama to the presentation or just how to add a little extra flourish for new cooks and seasoned kitchen veterans.
See and hear author interviews, book reviews, and other news on the Vincent Guihan's page HERE
Going vegan is easy, and even easier if you have the tools at hand to make it work right. In the second edition of Vegan Freak: Being Vegan in a Non-Vegan World by Bob and Jenna Torres two seasoned vegans help you learn to love your inner vegan freak. Loaded with tips, advice, and stories, this book is the key to helping you thrive as a happy, healthy, and sane vegan in a decidedly non-vegan world that doesn't always get what you're about.
In this sometimes funny, sometimes irreverent, and sometimes serious guide that's not afraid to tell it like it is, you will:
* find out how to go vegan in three weeks or less with our "cold tofu method"
*discover and understand the arguments for ethical, abolitionist veganism
* learn how to convince family, friends, and others that you haven't joined a vegetable cult by going vegan
See and hear author interviews, book reviews, and other news on the Bob & Jenna Torres's page HERE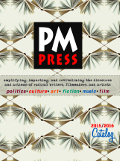 Your cart is currently empty
Subtotal: $0.00