Move Into the Light: Postscript To A Turbulent 2007
SKU:
9781604860313
Authors:
The Turbulence Collective
Publisher:
PM Press
ISBN:
978-1-60486-031-3
Published:
7/2008
Format:
Paperback
Size:
5.5 X 8.5
Subjects:
Current Events, Politics
Whether it's the G8 summit at Heiligendamm or experiments in Latin America, the politics of climate change or uprisings in the French banlieues, questions of visibility and illumination crop up again and again. But our experiences create their own luminosity, and their own areas of darkness. How can we overcome our night-blindness once we move beyond the familiar?
About the Turbulence Collective:
Turbulence is an irregular publishing project that we hope will become an ongoing space for thinking through the ideas and practices of our movements. Turbulence are: David Harvie, Keir Milburn, Tadzio Mueller, Rodrigo Nunes, Michal Osterweil, Kay Summer, Ben Trott, and David Watts.
See and hear author interviews, book reviews, and other news on the Turbulence Collective's page HERE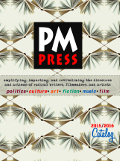 Your cart is currently empty
Subtotal: $0.00