Geek Mafia: The Combo Pack
Please note: Combo Packs are not available for any further discount to resale customers or Friends of PM.
This combo pack includes:
Geek Mafia: Fired from a job he hated at a company he loved, videogame designer Paul Reynolds is drowning his sorrows in late-morning margaritas when he meets an alluring, pink-haired conwoman named Chloe. With her gang of technopirate friends, Chloe helps Paul not only take revenge on his former employers, but also extort a small fortune from them in the process. What more could a recently unemployed, over-worked videogame designer in Silicon Valley ask for?
In return for Chloe's help, Paul agrees to create counterfeit comic books for one of her crew's criminal schemes. In the process he falls in for their fun loving, drug fueled "off the grid" lifestyle almost as fast as he falls head over heels for Chloe. Wary of the Crew's darker side, but eager to impress both the girl and the gang, Paul uses his game design expertise to invent a masterful con of his own. If all goes according to plan, it will be one for the ages. But can he trust any of them, or is he the one who's really being conned?
Geek Mafia: Mile Zero: Key West—southernmost point in the United States, Mile Zero on Highway 1; and as far as you can run away from your past troubles without swimming to Cuba. Key West—originally Cayo Huesos or Isle of Bones, for centuries a refuge for pirates, wreckers, writers, scoundrels, drunks, and tourists. Now home to a Crew of techno geek con artists who've turned it into their own private hunting ground. Paul and Chloe have the run of the sun-drenched island, free to play and scam far from the enemies they left behind in Silicon Valley. But that doesn't mean they can't bring a little high tech know how to the paradise. They and their new Crew have covered the island with their own private Big Brother style network—hidden cameras, RFID sensors, and a web of informers that tip them off about every crime committed and tourist trapped on the island. But will all the gadgets and games be enough when not one but three rival crews of con artists come to hold a top-secret gang summit? And when one of them is murdered, who will solve the crime?
Geek Mafia: Black Hat Blues: What do you call 1000 hackers assembled into one hotel for the weekend? A menace to society? Trouble waiting to happen? They call it a computer security conference, or really, a Hacker Con. A place for hackers, security experts, penetration testers, and tech geeks of all stripes to gather and discuss the latest hack, exploits, and gossip. For Paul, Chloe, and their Crew of con artist vigilantes, it's the perfect hunting ground for their most ambitious plans yet.
After a year of undercover recruiting at hacker cons all over the country, Chloe and Paul have assembled a new Crew of elite hackers, driven anarchist activists, and seductive impersonators. Under the cover of one of the Washington DC's biggest and most prestigious hacker events, they're going up against power house lobbyists, black hat hackers, and even the U.S. Congress in order to take down their most challenging, and most deserving target yet. The stakes have never been higher for them, and who knows if their new recruits are up to the immense challenge of undermining "homeland security" for the greater good.
See and hear author interviews, book reviews, and other news on Rick Dakan's page HERE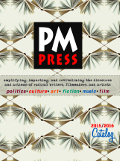 Your cart is currently empty
Subtotal: $0.00