Autonomous Art Combo Pack
Please note: Due to the killer deal being offered, Combo Packs are not available for any further discount to resale customers or Friends of PM.
A fantastic combo pack of politically engaged and socially aware art not to be missed! This combo pack saves you $32 off the regular retail price and includes:
Revolutionary Women: A Book of Stencils By Queen of the Neighbourhood
Signal: 01: A Journal of International Political Graphics Edited by Josh MacPhee and Alec Icky Dunn
Banksy Location and Tours: A Collection of Graffiti Locations and Photographs in London, England By Banksy (artwork) and Martin Bull (photographs and text)
Advertising Shits in Your Head: Strategies for Resistance By Vyvian Raoul and Matt Bonner
Revolutionary Women: A Book of Stencils offers radical feminist history and street art resource for inspired readers! This book combines short biographies with striking and usable stencil images of thirty women—activists, anarchists, feminists, freedom-fighters and visionaries.
The women featured include: Harriet Tubman, Louise Michel, Vera Zasulich, Emma Goldman, Qiu Jin, Nora Connolly O'Brien, Lucia Sanchez Saornil, Angela Davis, Comandante Ramona, Phoolan Devi, Ani Pachen, Anna Mae Aquash, Hannie Schaft, Rosa Luxemburg, Shiva, Olive Morris, Assata Shakur, Sylvia Rivera, Haydée Santamaría, Marie Equi, Mother Jones, Doria Shafik, Ondina Peteani, Whina Cooper and Lucy Parsons.
See and hear author interviews and book reviews on Queen of the Neighbourhood Collective's page HERE
Signal: 01: A Journal of International Political Graphics: In the U.S. there is a tendency to focus only on the artworks produced within our shores or from English speaking producers. Signal: 01 reaches beyond those bounds, bringing material produced the world over, translated from dozens of languages and collected from both the present and decades past. Although a full color printed publication, Signal:01 is not limited to the graphic arts. Within its pages you will find political posters and fine arts, comics and murals, street art, site specific works, zines, art collectives, documentation of performance and articles on the often overlooked but essential role all of these have played in struggles around the world.
Signal: 01 includes the following and so much more:
• The Future of Xicana Printmaking: Alec Dunn and Josh MacPhee interview the Taller Tupac Amaru
• The Adventures of Red Rat: Alec Dunn interviews Johannes van de Weert
• Early 20th-Century Anarchist Imprints
• Mexico 68: The Graphic Production of a Movement: Santiago Armengod interviews Felipe Hernandez Moreno
• Designing Anarchy: Dan Poyner interviews Rufus Segar
See and hear author interviews, book reviews, and other news on Josh Machee's page HERE and Alec "Icky" Dunn's page HERE
Banksy Location and Tours: A Collection of Graffiti Locations and Photographs in London, England: When it comes to art, London is best known for its galleries, not its graffiti. However, not if photographer Martin Bull has anything to say about it. While newspapers and magazines the world over send their critics to review the latest Damien Hirst show at the Tate Modern, Bull, in turn, is out taking photos of the latest street installations by guerilla art icon Banksy.
In three guided tours, Martin Bull documents sixty-five London sites where one can see some of the most important works by the legendary political artist. Boasting over 100 color photos, Banksy Locations and Tours also includes graffiti by many of Banksy's peers, including Eine, Faile, El Chivo, Arofish, Cept, Space Invader, Blek Le Rat, D*face, and Shepherd Fairey.
U.S. edition has locations updated and 25 additional photos.
See and hear author interviews, book reviews, and other news on Martin Bull's page HERE
Advertising Shits in Your Head calls adverts what they are—a powerful means of control through manipulation—and highlights how people across the world are fighting back. It diagnoses the problem and offers practical tips for a DIY remedy. Faced with an ad-saturated world, activists are fighting back, equipped with stencils, printers, high-visibility vests, and utility tools. Their aim is to subvert the adverts that control us.
With case studies from both sides of the Atlantic, this book showcases the ways in which small groups of activists are taking on corporations and states at their own game: propaganda. This international edition includes an illustrated introduction from Josh MacPhee, case studies and interviews with Art in Ad Places, Public Ad Campaign, Resistance Is Female, Brandalism, and Special Patrol Group, plus photography from Luna Park and Jordan Seiler.
This is a call-to-arts for a generation raised on adverts. Beginning with a rich and detailed analysis of the pernicious hold advertising has on our lives, the book then moves on to offer practical solutions and guidance on how to subvert the ads. Using a combination of ethnographic research and theoretical analysis, Advertising Shits in Your Head investigates the claims made by subvertising practitioners and shows how they impact their practice.
Cortez) to the up-and-coming (Favianna Rodriguez, Chris Stain, Nicole Schulman), from street artists (BORF, You Are Beautiful) to rock poster makers (EMEK, Bughouse).
See and hear editor interviews, book reviews, and other news on Vyvian Raoul's page HERE and Matt Bonner's page HERE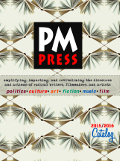 Your cart is currently empty
Subtotal: $0.00