Abolish Restaurants: A Worker's Critique of the Food Service Industry
SKU:
9781604860481
Author:
Prole.info
Publisher:
PM Press
Published:
6/2010
ISBN:
9781604860481
Format:
Pamphlet
Page count:
60
Size:
8.5 x 5.5
Subjects:
Labor, Politics-Activism
A 60-page illustrated guide to the daily misery, stress, boredom, and alienation of restaurant work, as well as the ways restaurant workers fight against it. Drawing on a range of anticapitalist ideas as well as a heaping plate of personal experience, it is part analysis and part call-to-arms.
About Prole.info:
The author is an anonymous worker whose writings and illustrations can be found on www.prole.info. "Prole" is short for "proletarian" a word used by Karl Marx to describe the working class under capitalism. We are all the people in this society who do not own property or a business we can make money from, and therefore have to sell our time and energy to a boss—we are forced to work. Our work is the basis of this society.
See and hear author interviews, book reviews, and other news on Prole.info's page HERE
Click here to download and print a product information sheet.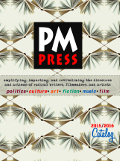 Your cart is currently empty
Subtotal: $0.00