Geek Mafia Bomb T-Shirt
SKU:
geek-mafia-bomb-tshirt
For all geeks everywhere (and all those who love Rick Dakan's book, or the off the grid lifestyle, or even just the dangerously cute bombo), this black American made T shirt is for you, with a small red graphic across the front and a full size PM Press logo on the back.
Fitting Guide: These shirts are made by American Apparel and tend to fit a bit small. The woman's large is a slightly more fitted version of the regular small T-shirt.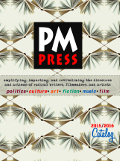 Your cart is currently empty
Subtotal: $0.00