Working Class History 2024 Wall Calendar
Get your daily dose of people's history with the 2024 Working Class History limited edition wall calendar! 8.5" x 11" (22 x 28 cm), on high quality gloss paper, with an item of On this Day in history each day, alongside photographs of ordinary people who have made history accompanying each month. It also includes room for you to do your own year planning. This year, the calendar is our most geographically diverse and international yet, and includes positive and inspiring events every day of the year.
Designed as a companion to the Working Class History book, but works fine on its own as well.
Made in the USA.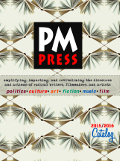 Your cart is currently empty
Subtotal: $0.00