TAZ: The Temporary Autonomous Zone
SKU:
9781570271519
Author:
Hakim Bey
Publisher:
Autonomedia
ISBN:
9781570271519
Published:
06/2003
Format:
Paperback
Size:
5 x 7
Page count:
160
Subjects:
Politics, Theory, Anarchism
The underground cult bestseller! Essays that redefine the psychogeographical nooks of autonomy. Recipes for poetic terror, anarcho black magic, post-situ psychotropic surgery, denunciations of spiritual addictions to vapid infotainment cults this is the bastard classic, the watermark impressed upon our minds. Where conscience informs praxis, and action infects consciousness, TAZ is beginning to worm its way into above-ground culture.
Second edition, with a new introductory essay by the author and additional appendix materials.
Hakim Bey is the nom-de-plume of a notorious anarchist intellectual, under which a large number of essays and communiques have appeared, mostly in the punk underground and on-line. He splits his time between a trailer in the New Jersey Pine Barrens and a run-down NYC Chinatown hotel.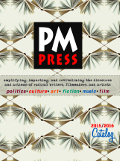 Your cart is currently empty
Subtotal: $0.00