The Reservoir
SKU:
9781570274107
Author:
Various Authors
Publisher:
Autonomedia
ISBN:
9781570274107
Published:
12/2022
Format:
Paperback
Size:
4.5 x 7
Page count:
258
Subjects:
Politics, Autonomy, Literature, Poetry
From the introduction: "What does it mean to build a life in common at the end of the world? The crises in which we find ourselves living – constant, and newly surprising – require us to be present for each other in all kinds of ways. And yet the system in which we live wants to keep us distracted, plugged-in, doom-scrolling, and separate. Woodbine, a physical space in Ridgewood, Queens from which this publication was born, was founded, in part, as a means to create that presence…"
The Reservoir is the new journal from Woodbine, an experimental hub for developing the practices, skills, and tools needed to build autonomy. The Reservoir features new and previously unavailable texts by Silvia Federici, Fred Moten, Franco "Bifo" Berardi, Ben Morea, and P.M., as well as fiction, poetry, interviews, photography, essays, illustrations, and archival material from more than 20 contributors, with design by Kevin McCaughey.
"Why commit to being an exclusively physical object? To create a space, a publication, a shared moment, is always a secession, an opportunity to build in the moment of exodus. In this issue we've included archival material dating back to Woodbine's inception, along with contributions from friends who have shared in these experiments from around the world. This is a snapshot and extension of a communal imagination being built, piece by piece."
Contributors: Lily Abichahine, Franco "Bifo" Berardi, Caravanera/os, Geoff Dembicki, Emma B.B. Doyle, Elia El Khazen, Silvia Federici, Clark Fitzgerald, Suzanne Goldenberg, Kevin Gonzalez, Brendan Joyce, Joscelyn Jurich, Ernie Larsen, Er Linsker, Alejandra Lopez Uribe, germ lynn, P.M., Ryan Maleady, samira makki, Max Moorhead, Ben Morea, Fred Moten, Sofia Peppe, Matt Peterson, Herminie Philippe, Eero Talo, Adrian Wohlleben.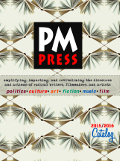 Your cart is currently empty
Subtotal: $0.00