How We Stay Free (Common Notions)
SKU:
9781942173502
Author:
Edited by: Christopher R. Rogers, Fajr Muhammad, and the Paul Robeson House & Museum
Publisher:
Common Notions
ISBN:
9781942173502
Published:
02/2022
Format:
Paperback
Size:
5.5 x 8.5
Page count:
208
Subjects:
Abolition, Black Radical Tradition, Movements
In the midst of a global pandemic and a nationwide uprising sparked by the murder of George Floyd, Philadelphians took to the streets establishing mutual aid campaigns, jail support networks, bail funds, and housing encampments for their community; removed the statue of Frank Rizzo—the former mayor and face of racist policing; called for the release of all political prisoners including Mumia Abu-Jamal; and protested, marched, and agitated in all corners of the city.
How We Stay Free collects and presents reflections and testimonies, prose and poetry from those on the frontlines to take stock of where the movement started, where it stands, and where we go from here. A celebration of the organizing that sustained the uprising, How We Stay Free is a powerful collection that invites us all to celebrate Black life, find our place in an ongoing rebellion, and organize our communities for the creation of new, better, and freer worlds.
"This powerful volume provides a maroon archive of Black resistance, historical memory, and survival work during the 2020 uprisings in Philadelphia. From the founding of the Philadelphia Black Radical Collective to the emergence of the Black Students Alliance in July 2020, the writings and spoken word in How We Stay Free remind us that, "Freedom is not a destination. It's a process." By documenting Black Philadelphia's activist praxis during the United States' largest popular mobilization in history, this edited collection unearths the precious artifacts of local struggle through voice, material culture, poetry and prose. It connects past, present, and future by interweaving the histories of the Paul Robeson House and Museum and Hakim's Bookstore in West Philadelphia to the contemporary practices of mutual aid and survival developed by the Black and Brown Workers Cooperative to ensure that Black Trans Lives Matter. How We Stay Free is a rich tapestry of political work and freedom dreams that is essential reading for understanding our city and the larger world beyond as we reckon with the COVID-19 pandemic, the scale of state violence at home and abroad, and unprecedented ecological crisis. Underneath all we do, Mike Africa, Jr.'s reminds us that "the overall mission, the grand mission itself" must be to "protect life."
—Donna Murch, author of Living for the City: Migration, Education, and the Rise of the Black Panther Party in Oakland, California and Assata Taught Me: State Violence, Racial Capitalism and the Movement for Black Lives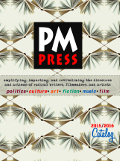 Your cart is currently empty
Subtotal: $0.00