A People's Guide to Abolition and Disability Justice
SKU:
9798887440408
Author:
Katie Tastrom
Series:
PM Press
ISBN:
9798887440408
Published:
05/07/2024
Format:
Paperback
Size:
5x8
Pages:
224
Subjects:
Social Science / People with Disabilities, Activism & Social Justice, Sex Trade, Criminology, Penology
Disability justice and prison abolition are two increasingly popular theories that overlap but whose intersection has rarely been explored in depth.
A People's Guide to Abolition and Disability Justice explains the history and theories behind abolition and disability justice in a way that is easy to understand for those new to these concepts yet also gives insights that will be useful to seasoned activists. The book uses extensive research and professional and lived experience to illuminate the way the State uses disability and its power to disable to incarcerate multiply marginalized disabled people, especially those who are queer, trans, Black, or Indigenous.
Because disabled people are much more likely than nondisabled people to be locked up in prisons, jails, and other sites of incarceration, abolitionists, and others critical of carceral systems must incorporate a disability justice perspective into our work. A People's Guide to Abolition and Disability Justice gives personal and policy examples of how and why disabled people are disproportionately caught up in the carceral net, and how we can use this information to work toward prison and police abolition more effectively. This book includes practical tools and strategies that will be useful for anyone who cares about disability justice or abolition and explains why we can't have one without the other.
Praise
"An essential movement tool. Tastrom convincingly shows that police and prison abolition and disability justice are core strategies for liberation and that we can't win one without the other."
—Alex Vitale, professor of sociology and coordinator of the Policing and Social Justice Project at Brooklyn College and the CUNY Graduate Center, and author of City of Disorder and The End of Policing
"A People's Guide to Abolition and Disability Justice is a clear, accessible, and invaluable tool for not only dissecting the depths of disability and criminalization but also illustrating how the fights for disability justice and prison abolition are inextricably linked."
—Victoria Law, author of Resistance Behind Bars: The Struggles of Incarcerated Women and "Prisons Make Us Safer" & 20 Other Myths about Mass Incarceration
"Reminding us that abolition and disability justice must be, on a molecular level, grown together, Katie Tastrom offers a manifesto, which is also to say an atlas that leads us deeper into this analysis. Pushing against a world where harms lived by some are reproduced under the promise of safety for others, Tastrom insists that we must dream of more. Working from personal experience and a wide genealogy of abolitionist crip thought, this book is a necessary contribution to our collective study."
—Eric A. Stanley, author of Atmospheres of Violence: Structuring Antagonism and the Trans/Queer Ungovernable
About the Author
Katie Tastrom is a disability justice activist and writer who has worked as a lawyer, social worker, and sex worker. Her work has appeared in the anthologies Burn It Down: Feminist Manifestos for the Revolution and Nourishing Resistance: Stories of Food, Protest, and Mutual Aid, as well as all over the internet including: Truthout, Rewire, and Rooted in Rights. She resides in Syracuse, NY.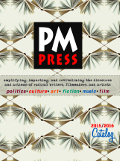 Your cart is currently empty
Subtotal: $0.00