Missing Music: Voices from Where the Dirt Roads End
SKU:
9798887440378
Author:
Ian Brennan • Introduction by Marilena Umuhoza Delli • Foreword by Dame Evelyn Glennie
Series:
PM Press
ISBN:
9798887440378
Published:
03/05/2024
Format:
Paperback
Size:
5x8
Pages:
96
Subjects:
Music / Essays, Ethnomusicology, History & Criticism
Missing Music: Voices from Where the Dirt Roads End details Grammy-winning music producer and author Ian Brennan's ongoing quest to provide musical platforms for underrepresented nations and populations around the world.
In a compact and quick-read format, Missing Music collects the latest narratives from Brennan's field-recording treks. This edition features a greater emphasis on storytelling and an even greater abundance of photos from his wife, Italian-Rwandan photographer/filmmaker Marilena Umuhoza Delli.
Together, they meet the elderly shamans of the world's most musical language, Taa, a tongue that sadly is dying, with fewer than 2,500 speakers left. The duo traveled the most remote roads of Botswana to find the formally nomadic people now relegated to small desert towns.
In Azerbaijan, Brennan and Delli ascended to the mountainous Iranian border to record centenarians in scattered villages of the Talysh minority, where the world's oldest man reportedly reached the age of 168. The result is the only record ever released to feature the voices of singers over one-hundred years of age.
Among other tales, Brennan also updates the saga of the Sheltered Workshop Singers following COVID, including the tragic deterioration of his sister, Jane.
Arising from the more than forty records that Brennan has produced over the past decade from underrepresented nations such as Comoros, Djibouti, Romania, South Sudan, Suriname, and Cambodia, Missing Music serves as the newest suite in the multiverse symphony of the world's most ignored corners—the places where countries expire and the "forgotten" live.
Praise
"Music is one of the best doors into a culture and Ian Brennan has opened them in more far-off corners than anyone. He writes of the people he meets and their music with vivid directness and great generosity of spirit."
—Joe Boyd, Grammy-nominated producer (Nick Drake, Richard and Linda Thompson, Pink Floyd) and author of White Bicycles
"An activist and ambassador for the overlooked and underappreciated musicians of the world. Brennan is an important counterculture figure of our time. His writing, like his productions, deserves a spotlight."
—Raymond Antrobus, award-winning poet
"Looking for music in the far corners of the world, Brennan has made recordings and albums that no one else has even thought to capture, let alone made the effort needed to do so. He has brought voices, stories, and feelings to the world's listeners that likely would never have been known without his selfless efforts."
—Larry Crane, founder, publisher, and editor of Tape Op, producer for Elliott Smith
About the Contributors
Ian Brennan is Grammy-winning producer who has produced three Grammy-nominated albums and published seven books while also teaching violence prevention around the world since 1993 for organizations such as the Smithsonian and the National Accademia of Science (Rome). Brennan released his first album in 1987 and in the past decade has produced over forty records by international artists from five continents, which have resulted in the first widely released original music albums from nations such as Rwanda, Malawi, Kosovo, South Sudan, Romania, Comoros, and Vietnam. He has worked with artists as diverse as Fugazi, country legend Merle Haggard, Sleater-Kinney, and Green Day. His work has appeared in the New York Times, PBS television, and in an Emmy-winning segment of 60 Minutes.
Marilena Umuhoza Delli is an Italian Rwandan photographer, author, and filmmaker whose photographic work has been published around the world by VICE, Libération, Corriere della Sera, Le Monde, Rolling Stone, and Smithsonian, among others, and has photographed the covers of more than three dozen international music albums. She has written two Italian-language books about racism and growing up with an immigrant mother in Italy's most redneck region.
Experimental and classical percussionist Evelyn Glennie has released almost fifty album and collaborated with the likes of Mark Knofler, Björk, Fred Frith, Bela Fleck, Bobby McFerrin, and filmmaker Danny Boyle. Evelyn became deaf at age twelve and is the only deaf artist known to have ever won a Grammy, which she has done twice as well as having been nominated three other times since 1988. Glennie is the author of two books, Listen World! and Good Vibrations: My Autobiography. Her stated mission is to try to help "teach the world to listen."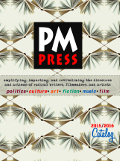 Your cart is currently empty
Subtotal: $0.00