Signal 09: A Journal of International Political Graphics and Culture
SKU:
9798887440248
Editors:
Josh MacPhee and Alec Dunn
Series:
PM Press
ISBN:
9798887440248
Published:
02/20/2024
Format:
Paperback
Size:
5 x 7
Pages:
176
Subjects:
Art & Politics / Graffiti & Street Art
Signal weaves a story of how culture is central to social transformation, both yesterday and today.
This ongoing series is dedicated to documenting and sharing political graphics, creative projects, and cultural production of international resistance and liberation struggles.
Highlights of the ninth volume of Signal include:
Hell No, We Won't Glow: Selections from the Anti-Nuclear Power Discography by Dirk Bannink and Sean P. Kilcoyne
Where Do You Draw the Line Between Art and Politics? An interview with Pietro Perotti by Davide Tidoni
Print-On-Demand America Great Again: The Aesthetics and Means of Production of the Far Right by Alex Lukas
A Survey of Graphic Actions in Latin America by Andre Mesquita
Praise
"If you are interested in the use of graphic art and communications political struggles, don't miss the latest Signal"
—Rick Poyner, Design Observer
"Offering these graphics to generations far beyond their original audiences, this title is recommended for designers, activists, archivists, and scholars studying protest movements."
—Library Journal
"Signal reads like a magazine in that it consists of a number of smaller, independent articles but the loose continuity of subject holds it together as a book. As a series, this is going to be a great resource. Dunn and MacPhee are filling a void in terms of political graphics; there's a lot of material for them to cover and this is solid start."
—printeresting.org
"Signal is dotted with stunning photography that will certainly reel in many people who are into unusual art. Dunn and MacPhee do an impressive job of conveying not only what is new and relevant in political art, but also its history and its presence in the everyday."
—Political Media Review
About the Editors
Alec Dunn is an illustrator, printer, and nurse living in Portland, OR. He is a member of the Justseeds Artists' Cooperative and co-author of It Did Happen Here: An Antifascist Peoples History.
Josh MacPhee is a designer, artist, and archivist. He is a founding member of the Justseeds Artists' Cooperative (Justseeds.org), the author of An Encyclopedia of Political Record Labels, and co-editor of Signal: A Journal of International Political Graphics and Culture. He co-founded and helps run Interference Archive, a public collection of cultural materials produced by social movements (InterferenceArchive.org). He regularly works with community and social justice organizations building agit-prop and consulting on cultural strategy.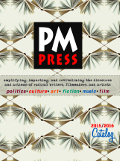 Your cart is currently empty
Subtotal: $0.00