The Hands That Crafted the Bomb
SKU:
9798887440231
Author:
Josh Fernandez
Series:
PM Press
ISBN:
9798887440231
Published:
02/13/2024
Format:
Paperback
Size:
6 x 9
Pages:
256
Subjects:
Biography / Political / Social Activists / Anarchism / Antifascism
Available for preorder.
Josh Fernandez is a community college professor in Northern California who finds himself under investigation for "soliciting students for potentially dangerous activities" after starting an antifascist club on campus.
As Fernandez spends the year defending his job, he reflects on a life lived in protest of the status quo, swept up in chaos and rage, from his childhood in Boston dealing with a mentally ill father and a new family to a move to Davis, California, where, in the basement shows of the early '90s, Nazi boneheads proliferated the music scene, looking for heads to crack. His crew's first attempts at an antifascist group fall short when a member dies in a knife fight.
A born antiauthoritarian, filled with an untamable rage, Fernandez rails against the system and aggressively chooses the path of most resistance. This leads to long spates of living in his car, strung out on drugs, and robbing the whiteboys coming home from the clubs at night. He eventually realizes that his rage needs an outlet and finds relief for his existential dread in the form of running. And fighting Nazis. Fernandez cobbles together a life for himself as a writing professor, a facilitator of a self-defense collective, a boots-on-the-ground participant in Antifa work, and a proud father of two children he unapologetically raises to question authority.
Praise
"Fernandez is scathing on the corporate-minded liberals who talk about equity and diversity, antiracism and gay rights but can't deal with people actually defending themselves or challenging authority. What he offers instead isn't heroics or militant slogans or even measured analysis—it's the messy story of a 'fucked up person' trying to 'channel rage into something less destructive,' a guy who tends to run face-first into danger but also has the good sense to run away screaming when confronted with a knife-wielding racist. Fernandez's account of violence, trauma, and loneliness is hard to read in places, but there's an underlying sweetness here, a hopefulness about flawed people helping each other out, a sense that if we can get past the lies, we can remake this world together."
—Matthew N. Lyons, author of Insurgent Supremacists: The U.S. Far Right's Challenge to State and Empire
"'I had a keen sense of right and wrong from an early age and simply preferred to do the wrong thing' says Josh Fernandez who debuts with a force, rigor, and candor that punches you in the gut. As a trenchant critique of neoliberalism's facade which pays lip service to diversity and equity in academia, this memoir fights fire with fire, rage with rage. Fernandez holds an unflinching mirror to people and institutions who think good intentions are enough and arms a reader with a language 'to defend themselves as the world turns in the last gasp of white supremacy.' This book disrupts with the incandescent lyricism of a poet's eye and unearths beauty in the darkest moments of solitude, longing, and loss. 'Some see me as a good man,' says Fernandez, 'so I remind them I am not. Some see me as evil, so I show them why they are wrong. I am the sum of my life, little hands tinkering away to make me better, my own hands fixing their work as I go.' Put simply, this book is a verb, kindling to burn the house down."
—Marcelo Hernandez Castillo, author of Children of the Land and Cenzontle
"The Hands That Crafted the Bomb is nothing less than incendiary, a memoir as timely and vital as it is irreverent, as gritty, and uncomfortable as it is necessary. Josh Fernandez is punk as fuck!"
—Jonathan Evison, New York Times best-selling author of All About Lulu, West of Here, The Revised Fundamentals of Caregiving, This Is Your Life, Harriet Chance!, and Lawn Boy
"The Hands That Crafted the Bomb really brought back memories for me, but also hit home the kind of fight we face today. Today's neo-fascists are more emboldened but this account from someone that has been on the frontlines of fighting them for decades is a good roadmap for those who wish to continue it. It shows the major hazards along the way, namely the threats to one's own security in life, but overall shows the benefits which ultimately what matters. Don't sleep on this!"
—Daryle Lamont Jenkins, executive director of One People's Project
"This man really puts his money where his mouth is. … This book reads like a life story told by your tío, and it's a gift for every person who reads it."
—Alexia Roditis, Destroy Boys
"Rarely do professors or propagandists pull back the curtain behind their pontification to reveal the fear, pain, self-doubt, and sense of uncertainty that inevitably lurk behind any veneer of confidence and courage, which is why Josh Fernandez's memoir is so humanizing and haunting. The Hands that Crafted the Bomb is a scathing indictment of academia's general inability (and/or unwillingness) to take a stand against fascism and an engrossing point of departure for readers to reflect upon their own antiracist and antifascist journeys."
—Mark Bray, author of Antifa: The Antifascist Handbook
"[The Hands that Crafted the Bomb] ramped up my anxiety levels like a motherfucker, but I couldn't stop reading. It also fully explains the many times I've seen him with bruises, cuts, and blackened eyes. Righteously gripping."
—Kevin Seconds, 7 Seconds
"Josh Fernandez goes into the belly of the beast by turning questions of violence inside out. Fighting being fired with actual fire, he narrates the stakes of antiracist work in the real world—whose voices will we help amplify, whose bodies will count in the face of endless clamp downs on activist thought and action? A triumph of creative insurgency."
—Lidia Yuknavich, author of Thrust and The Book of Joan
"Josh Fernandez is the real deal. A voice for our times. His attitude is all sexy anarchy and his voice grabs you by the lapels like a defense instructor who grabs a white belt's gi and flips them to the mat. His memoir is funnier than your funniest friend, but also a literary cultural punch to the gut."
—Joe Loya, author of The Man Who Outgrew His Prison Cell: Confessions of a Bank Robber
"Why is that fucker literally everwhere?"
—Telegram Nazi

About the Author
Josh Fernandez is an antiracist organizer, a father, a runner, a fighter, an English professor, and a writer whose stories have appeared in Spin, the Sacramento Bee, the Hard Times, and several alternative news weeklies. He lives in Sacramento, CA.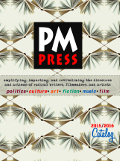 Your cart is currently empty
Subtotal: $0.00