Riding More with Less: A Future for Bike Repair
SKU:
9798887440224
Author:
Sam Tracy
Series:
PM Press
ISBN:
9798887440224
Published:
01/23/2024
Format:
Paperback
Size:
6 x 9
Pages:
352
Subjects:
Bicycles / Personal & Practical Guides
Riding More with Less is the bike repair manual for everyone else.
Pulling away from the obsolescence and disposability so often implied within consumer economies, the book surveys experienced community bike shop mechanics worldwide to identify the best and safest repair solutions when new parts are not an option. For those already familiar with the finer arts of bicycle preservation, Riding More with Less aligns the most useful technical references within a well-organized compilation of the most effective low-cost and for-free repair techniques. And for the uninitiated, the book includes an overview of the community bike shops many readers may find in their own neighborhoods, where many begin to discover real alternatives.
Presented in a compact and info-rich writing style, the technical discussion within Riding More with Less goes beyond identifying innovative techniques for fixing bikes with little or no money to demonstrate just how common these approaches really are. Most cyclists globally do not ride expensive or even modern ones, after all, and from this perspective the option of new repair parts might even be exceptional, rather than normative. Moreover, the Covid pandemic underlines how supply chain disruptions beyond our control can lead larger numbers of people towards reusing salvageable bike parts and other creative solutions.
Praise
"What other maintenance manual observes 'the biggest barriers to riding bikes are capitalism, classism, sexism, and racism'? If your bicycle lies somewhere between the Tour de France and the local landfill, this book is for you. Seasoned wrench and rider Sam Tracy combines decades of personal experience with input from dedicated community bike shops thriving on low-cost or no-cost repairs. Even as bicycle transportation remains undervalued, cycling generates a sense of freedom that is hard to replicate yet begs to be shared. Some maintenance required."
—Craig O'Hara, Bike Den, State College, PA
For Bicycle! A Repair & Maintenance Manifesto (PM Press, 2013)
"Tracy's second edition boasts five years' worth of additional hands-on experience since his first, gained during his bicycling pursuits around the globe. He writes in a humorous, unintimidating tone, e.g., saying of bike frame creaks, 'they exist to mock us.' Maintenance, repair, and selecting the right type of bike are all covered, and, from headsets to wheels and brakes to drive trains, the mechanics are discussed. Additional helpful chapters include 'Winter Riding,' 'Boxing Bikes,' and 'Scavenging, Rust, and Security.' From seasoned bike builders to novice bike riders, everyone will find something of value in this manifesto. VERDICT: A smart buy for any library serving a bike culture."
—Library Journal
"Keeping a bike running can be done with anyone with a little ambition and know how. Bicycle! A Repair & Maintenance Manifesto is an educational manual from Sam Tracy, who advises readers on how to keep their bikes rolling for years to come, even when improvising on the go. With additional thoughts on those who want to build their own bikes, fighting rust, safety and security, and much more, Bicycle! is a fine addition to any collection focusing on practical bicycling wisdom."
—Midwest Book Review
"Sam isn't scared to tell you to use a hammer and duct tape when called for—this isn't the manual for those with plastic bikes and torque wrenches, this is more geared towards keeping your bike working in the real world, sometimes with scavenged parts, sometimes by forcing the issue to keep the wheels rolling. This book is more about low-cost and no-cost repairs than upgrades and weighing your bike. Make no mistake, Sam is an accomplished mechanic and his tech advice is spot on. An ideal book for novice mechanics put off by the tech jargon of other tech manuals, experienced wrenches will also find solid advice from his experience working in bicycle co-ops and in the less-than-ideal conditions of Mauritania."
—Urban Velo
"Sam Tracy, a bike mechanic and former bike messenger, also wrote Roadside Bicycle Repair: A Pocket Manifesto and How to Rock and Roll: A City Rider's Repair Manual. This third book in Tracy's bike-care trilogy has been updated to include low-cost and no-cost solutions he learned during his Peace Corps stint in Mauritania. It's geared toward people who are seriously into their bikes. Owning it is like having a bike mechanic to chat with while you undertake repairs yourself."
—Carbusters
"Lots of examples from the less sophisticated end of the spectrum of machines … Equally, Sam's at home with light-weight carbon and has plenty to say about that."
—Seven Day Cyclist
About the Author
Sam Tracy began working as a bike mechanic in 1993 at Wheel and Sprocket in Milwaukee, WI. After earning a BA in Political Science from the University of Wisconsin he moved to Arcata, CA to serve as managing editor of the Auto-Free Times. From there he moved to Minneapolis to develop and refine safe and effective low-cost repair techniques. He also immersed himself in the experimental DIY frame-building culture around recumbents for which the 'bent riders are known. He is the author of Roadside Bicycle Repair: A Pocket Manifesto; How to Rock and Roll: A City Rider's Repair Manual; and Bicycle! A Repair & Maintenance Manifesto. He and his wife have in recent years cycled through Riga, Latvia; Georgetown, Guyana; Washington, D.C., Pretoria, South Africa; and Montevideo, Uruguay.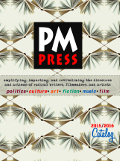 Your cart is currently empty
Subtotal: $0.00