Camden Parasites
SKU:
9780948984365
Author:
Daniel Lux
Publisher:
Phoenix Press
ISBN:
9780948984365
Published:
2007
Format:
Paperback
Size:
6.75 x 8.25
Page count:
215
Subjects:
Autobiography, Class, London, Humor
Emerging from a world of poverty, Danny soon discovers that his quick wits and forthright personality can gain him access to the well-heeled salons of Hampstead. As he explores the realities of the middle class way of life, one question comes to mind: who are the Camden parasites?
"A savage indictment of bourgeois society..." - Stewart Home.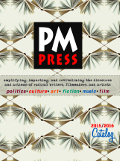 Your cart is currently empty
Subtotal: $0.00