Anarchy: A Graphic Guide
SKU:
Author:
Clifford Harper
Publisher:
Anne Bonny Books
ISBN:
Published:
first edition published 1987
Format:
Paperback
Size:
5.8 x 8.3
Page count:
208
Subjects:
Anarchism
Originally published in 1987 by the now defunct Camdem Press, this undisputed classic of anarchist introductory texts returns in an updated version from Anne Bonny Books. Clifford Harper's artwork has been used and abused throughout the world by anarchist zinesters, poster designers, bookfair organisers and the like. His bold striking style lends a militant strength to the revolutionary subjects he depicts. Clifford published several books of his artwork through his own Agraphia Books. Most are still available from good radical outlets!
"It seems Clifford decided to redo this book in his new artwork style and not to reissue this version. I heard rumours that a couple of well known anarchist publishers were going to publish it but after many years waiting it seems he has the artistic equivalent of writers block! Judging from the sample work he has posted on his social media pages the new book will be very different to this one —more extensive in its scope and detail. I reckon this book is a classic as it is but I took the liberty of updating it slightly. It was one of the books I grew up with —as a fledgling anarchist!— alongside V for Vendetta, Malatesta, Kropotkin and Emma Goldman. I make no apology for pirating this book but I do want to thank Clifford Harper for the inspiration that his artwork has given me and everyone over the years and I wish him all the best with finishing his new book soon.'
– Anne Bonny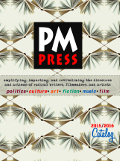 Your cart is currently empty
Subtotal: $0.00