Bang Up and Smash 2nd Edition
SKU:
9781909798489
Author:
ASBO
Publisher:
Active Distribution
ISBN:
9781909798489
Published:
02/2022 (first edition published 2017)
Format:
Paperback
Size:
5 x 7.5
Page count:
300
Subjects:
Carceral State, Prison Abolition
From the moment of arrest, to coming home, Bang Up and Smash critically engages with the procedures, concepts, and apparatus the state relies on, and the economics behind the expansion of the prison industrial complex. Bang Up and Smash is a practical guide to women' prisons in the UK, and a rallying call to attack. This 2nd edition contains an updated introduction and resources section.
Solidarity is a weapon, and abolition is not enough…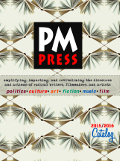 Your cart is currently empty
Subtotal: $0.00