Anti-Mass Methods of Organisation
SKU:
9781909798380
Author:
Anonymous
Publisher:
Active Distribution
ISBN:
9781909798380
Published:
Format:
Pamphlet
Size:
5.75 x 8.25
Page count:
16
Subjects:
Organizing, Collectives
The small group is the coming together of people who feel the need for collectivity. Its function is often to break out of the mass - specifically from the isolation of daily life and the mass structure of the movement. The problem is that frequently the group cannot create an independent existence and an identity of its own because it continues to define itself negatively, i.e. in opposition. So long as its point of reference lies outside of it, the group's politics tend to be superimposed on it by events and crises.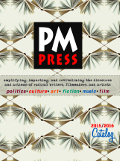 Your cart is currently empty
Subtotal: $0.00