You're Already Dead
SKU:
9781909798922
Author:
CRASS
Publisher:
Active Distribution
ISBN:
9781909798922
Published:
05/2021 (originally published in 1984)
Format:
Pamphlet
Size:
4.1 x 5.8
Page count:
26
Subjects:
Music, Punk, Anarchism
"PUNK, doo wah, or do what?. Either way it's become a part of the grand social circus. Dance music for dickheads, or a genuine expression of our anger and our despair?. There's such a fine line between that which simply adds to the plastic crap that engulfs our lives and that which offers vision, hope dignity and a FUTURE. Can you tell the difference?"
Written over three decades ago by the pioneers of anarcho-punk. This text seems all the more relevant today just with differently named puppets and masters.
Now republished by Active as an A6 booklet.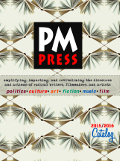 Your cart is currently empty
Subtotal: $0.00