Tales From the Punkside
SKU:
9781909798076
Author:
Edited by Gregory Bull & Mike Dines
Publisher:
Active Distribution
ISBN:
9781909798076
Published:
2014
Format:
Paperback
Size:
5.5 x 8.25
Page count:
189
Subjects:
Music, Punk, Anarchism
Co-edited by Gregory Bull and Mike Dines, this book is an eclectic collection of academic articles, personal recollections, short stories, artwork, poetry and more. An anthology of work about Punk written by the survivors and by those who want the world to see not just the writings of those who were in the bands, but by those who were the supporters of the punk movement.
With contributions from: Alastair Gordon, Alistair Livingstone, Amanda Bigler, Francis Stewart, Greg Bull, Isabel Flores, Justine Butler, Laura Way, Lucy Robinson, Martin Cooper, Rebecca Binns, Robert Dellar, Sarah Attfield, Ted Curtis – and with portrait artwork by Jacky Smith.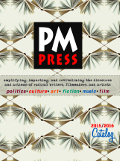 Your cart is currently empty
Subtotal: $0.00