Emma Goldman: Living My Life Vol 2
SKU:
9781909798182
Author:
Emma Goldman
Publisher:
Active Distribution
ISBN:
9781909798182
Published:
2015 (original edition published in 1931)
Format:
Paperback
Size:
5.8 x 8.3
Page count:
262
Subjects:
Biography, Anarchism, Feminism
Emma Goldman's autobiography. Originally published in 1931 as a single 993 page book, Active Distribution Publishing has split it into three more manageable volumes.
Anarchist and feminist Emma Goldman is one of the towering figures in global radicalism of the late 19th and early 20th centuries. An early advocate of birth control and women's rights, as well as a dedicated anarchist, she was an important and influential figure in such far-flung events as the Russian Revolution and the Spanish Civil War. Against a dramatic backdrop of political argument, show trials, imprisonment, and tempestuous romances, Goldman chronicles the epoch that she helped shape: the reform movements of the Progressive Era, the early years of and later disillusionment with Lenin's Bolshevik experiment, and more.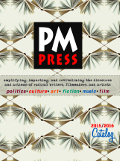 Your cart is currently empty
Subtotal: $0.00