For Life
SKU:
9781909798915
Author:
The Zapatistas
Publisher:
Active Distribution
ISBN:
9781909798915
Published:
2021
Format:
Pamphlet
Size:
4.1 x 5.8
Page count:
72
Subjects:
Indigenous Resistance, Anarchism
Ever since the Zapatista's shook the New World Order with their uprising in 1994 they have inspired and educated revolutionaries and activists from all over the world. Many of those activists travelled to Mexico to help with the Zapatista's campaigns especially the "caravans" and marches from Chiapas to Mexico City. Now it is the Zapatista's turn to visit the rest of the world and they are starting with Europe. The six "declarations" within explain why and what the Zapatista's hope for from this tour 25 years on from their emergence.
Proceeds from the sale of this booklet will go towards the Zapatista tour costs. 500 euros was gven to the Zapatistas at their Zagreb meeting in Sept 2021 from proceeds of this pamphlets sales so far.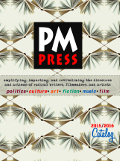 Your cart is currently empty
Subtotal: $0.00