Great Anarchists 3, Michael Bakunin
SKU:
Author:
Ruth Kinna & Clifford Harper
Publisher:
Active Distribution/Dog Section Press
ISBN:
Published:
02/2019
Format:
Pamphlet
Size:
4.1 x 5.8
Page count:
23
Subjects:
Anarchism
Bakunin needs no introduction! No that can't be right… this is the best introduction he doesn't need! No thats not right either… Bakunin was a Russian revolutionary anarchist, socialist and founder of collectivist anarchism. He is considered among the most influential figures of anarchism and a major founder of the revolutionary socialist and social anarchist tradition. Text by Ruth Kinna and cover art is by Clifford Harper.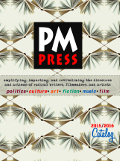 Your cart is currently empty
Subtotal: $0.00