Great Anarchists 5, Oscar Wilde
SKU:
Author:
Ruth Kinna & Clifford Harper
Publisher:
Active Distribution/Dog Section Press
ISBN:
Published:
06/2019
Format:
Pamphlet
Size:
4.1 x 5.8
Page count:
23
Subjects:
Anarchism
"Can anarchists also lay claim to Wilde? The Soul of Man Under Socialism, the essay he published in 1891, usually puts him in the anarchist frame, typically as a kind of individualist." Oscar Wilde the anarchist!? a text by Ruth Kinna and cover art is by Clifford Harper.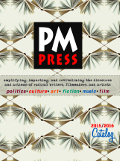 Your cart is currently empty
Subtotal: $0.00