Danbert Nobacon - Mesamerica Expect A Circus Double CD
SKU:
195269011024
Artists:
Danbert Nobacon and Kira Wood Cramer & The Axis Of DIssent
Publisher:
Verbal Burlesque Records
Catalog No:
VB 005 & VB 006
Published:
2020
Format:
CD
Size:
5.51 x 4.96
Release Date:
October 2020
UPC:
195269011024
Juxtaposing full blown majestic pop-rock-punk with interludes of spoken word musical theatre, like a Brechtian beggars' opera, the albums weave a trio of narrative threads whereby the agility of a child's play brain meets artificial intelligence under the watchful eyes of sub-contracted government spies. All set against the backdrop of the creeping authoritarianism of the Trump years and humanity's race to save the species.
Replete with anger, outrage, good tunes, humor and humanity at its best, it also manages to ask what role art may have in all of this?
Danbert Nobacon and Kira Wood Cramer take leading roles in this verbal burlesque hybrid, and are joined by an ensemble of new and returning Axis of Dissent musicians, and a full cast on no less than twenty three characters ... classifies as a double album because, like a good stage play or film it clocks in at the 84 minute mark
Always with a mischievous smirk … details the horrors of late period capitalism … This is the album that hardcore Chumbawamba fans have wanted for years. — punknews.org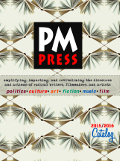 Your cart is currently empty
Subtotal: $0.00