Danbert Nobacon - Stardust To Darwinstuff CD
SKU:
888295582254
Artists:
Danbert Nobacon & the Axis of Dissent
Publisher:
Verbal Burlesque Records
Catalog No:
VB 003
Published:
2017
Format:
CD
Size:
5.51 x 4.96
Release Date:
April 2017
UPC:
888295582254
Nobacon writes with the wit of Robyn Hitchcock and sings with the sneering drawl of Billy Bragg toasting/quoting HG Wells: "Human history is a race between education and the catastrophe that embraces us now". Dedicating "every fiber in his breathing body" and "every ounce of empathy to overthrowing the demagoguery". An inoculation, if you will, to the inauguration.
Nobacon promises an album Stardust To Dawinstuff in April 2017, and we hope the whole thing is bold and rootsy as it's first single. — American Standard Time
Danbert Nobacon's Revolution 9.01—which appears on his Stardust To Darwinstuff album— is a surprisingly jaunty, acoustic-guitar powered folk tune that champions science and disdains the incoming ignoramus-in-chief. He advises listeners to "overthrow this demagoguery" and chides that this "president couldn't even get a job in a public high school." —The Stranger
Track List:
1 Stardust to Darwinstuff
2 So Hot It Hurts
3 Tricky Trickledown
4 Karma Won't Save Us
5 East 20
6 Water Off a Baldy
7 Worse in the Morning
8 Supervolcano
9 Trip Trapping
10 Autonomic Stress
11 Revolution 9 01
12 Dark Matter
13 To Be or Not to Be
14 Brain Plasticity
15 Chemistry
16 Christmas 2062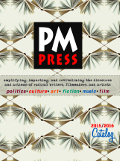 Your cart is currently empty
Subtotal: $0.00