Desert
SKU:
9781909798724
Author:
Anonymous
Publisher:
Active Distribution
ISBN:
9781909798724
Published:
2019
Format:
Paperback
Size:
5.75 x 8
Page count:
90
Subjects:
Environmentalism, Green Anarchism
A text that plays significantly on the Invisible Committee's concept of desert and also desertion, this is a gloves-off assault on optimism and the hope of saving the world. It asks the question "what does it mean to be an anarchist, or an environmentalist, when the goal is no longer working toward a global revolution and social/ecological sustainability?"
In our hearts we all know the world will not be 'saved'. Can active disillusionment be liberatory? What possibilities for liberty and wilderness might be closed, or opened up, by unstoppable climate change, increasing surveillance and the expansion and contraction of civilisation?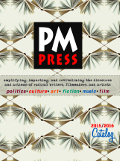 Your cart is currently empty
Subtotal: $0.00