Summer On Fire: A Detroit Novel
SKU:
9781948501118
Author:
Peter Werbe
Publisher:
Black & Red Books
ISBN:
9781948501118
Published:
03/2021
Format:
Paperback
Size:
5.5x8.25
Pages:
262
Subjects:
Fiction, Biography, History
A mix of history and inventive remembrances, Summer on Fire recreates six weeks in the intense summer of 1967. Riots, rock and roll, shootings, marches, and bomb plots shake Detroit, reminding us that today's turmoil is a mirror of that era. The characters are thrust into tumultuous episodes of the 1967 Detroit Rebellion, anti-war demonstrations, fighting fascists, rock and roll at the Grande Ballroom, drugs, anarchism, the White Panther Party, Wilhelm Reich, and a bomb plot that provide "a people's history and radical folklore of Detroit." The setting is seven weeks in a critical year that demands ethical choices by all involved, ones which mirror today's crises.

Peter Werbe is a long-time figure in alternative and commercial media in Detroit, and a political activist.. He is a member of the editorial board of the Fifth Estate magazine.
His professional career was as a DJ on Detroit's major rock stations, WABX, WWWW. WRIF, and WCSX. He hosted Nightcall, WRIF's phone-in talk show, that was the longest running such program in U.S. radio history, 1970-2016.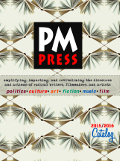 Your cart is currently empty
Subtotal: $0.00