Lives of the Saints
SKU:
9781948501200
Author:
Alan Franklin
Publisher:
Black & Red Books
ISBN:
9781948501200
Published:
02/2022
Format:
Paperback
Size:
6.x9
Pages:
105
Subjects:
History, Social Science, Anarchism
A jaundiced look at the meaning of sainthood in the modern world, from Christopher Columbus to Adolph Hitler, from family psychodynamics to globe-encircling hierarchies of power and domination.
Written by Fifth Estate contributing writer, Alan Franklin, whose guitar is heard with the anarcho ska-punk band, the Layabouts. Over the years he has been a frequent contributor to both The Fifth Estate and The Daily Barbarian.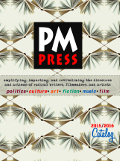 Your cart is currently empty
Subtotal: $0.00