Nourishing Resistance: Stories of Food, Protest, and Mutual Aid
SKU:
9781629639925
Editor:
Wren Awry • Foreword by Cindy Milstein
Series:
PM Press
ISBN:
9781629639925
Published:
01/24/23
Format:
Paperback
Size:
6x9
Pages:
224
Subjects:
Social Science / Agriculture & Food, Cooking / Essays
From the cooks who have quietly fed rebels and revolutionaries to the collective kitchens set up after hurricanes and floods, food has long played a crucial role in resistance, protest, and mutual aid. Until very recently, food-based work—steadfast and not particularly flashy—slipped under the radar or was centered on celebrity chefs and well-funded nonprofits. Adding to a growing constellation of conversations that push against this narrative, Nourishing Resistance centers the role of everyday people in acts of culinary solidarity.
Twenty-three contributors—cooks, farmers, writers, organizers, academics, and dreamers—write on queer potlucks, BIPOC-centered farms and gardens, rebel ancestors, disability justice, indigenous food sovereignty, and the fight against toxic diet culture, among many other topics. They recount bowls of biryani at a Delhi protest, fricasé de conejo on a Puerto Rican farm, pay-as-you-want dishes in a collectively-run Hong Kong restaurant, and lemon cake cooked in a New Jersey disaster relief kitchen. They chronicle the communal kitchens and food distribution programs that emerged in Buenos Aires and New York City in the wake of COVID-19, which caused surging food insecurity worldwide. They look to the past, revealing how "Bella Ciao" was composed by striking women rice workers, and the future, speculating on postcapitalist worlds that include both high-tech collective farms and herbs gathered beside highways.
Through essays, articles, poems, and stories, Nourishing Resistance argues that food is a central, intrinsic part of global struggles for autonomy and collective liberation.
Praise
"This collection of essays offers invaluable frameworks and inspirational models on how to get food out of capitalist markets and into the hands and stomachs of all. They fiercely demonstrate how the harvesting, growing, preparing, cooking, sharing, and eating of food has shaped and re-shaped our cultures, created the social conditions for conviviality, and helped to break the seclusion and alienation that racist capitalist patriarchies organize. A must read for all who dream of keeping practices of commoning."
—Silvia Federici, author of Re-enchanting the World: Feminism and the Politics of the Commons
"A thoughtfully assembled, refreshingly global collection of radical voices who urge us to reimagine the meaning of the phrase 'food is political.'"
—Mayukh Sen, author of Taste Makers: Seven Immigrant Women Who Revolutionized Food in America
"Prepare to be nourished by this book. In these essays, contributors share personal and collective stories of grassroots food activism from around the world. From community kitchens to queer potlucks to critical analyses of public space, diet culture, and property—you'll witness how they reimagine food beyond the food enterprise status quo. Each essay is intimate. As the authors revisit what community, sovereignty, radical, and other concepts mean, they address concepts that are often taken for granted in food-related activism and scholarship. While lifting up the significance of food in social movements, they make fresh connections between movements whose stories are often told separately. There are no prescriptive 'solutions' here, thank goodness. This collection is a reminder that kitchen sink food activism is taking place everywhere and is happening now. By sharing their stories, the authors invite us to reconsider our commitments, our assumptions, and what we think is possible."
—Naya Jones, assistant professor, University of California Santa Cruz
"This beautiful and thought-provoking collection of essays brings together reflections on the role of food in Indigenous land defense, immigrant ritual, international social centers, queer belonging, and so much more. I finished the book reinvigorated to bring radical attention to the ways in which our meals truly make our movements. Nourishing Resistance reminds us that any project toward liberation has a common root: the need for nourishment."
—Raechel Anne Jolie, author of Rust Belt Femme
"This book is delicious in all seven colours of the rainbow, as we say in South Africa about a balanced meal that is diversely nutritious. It is the queer potluck club where new friends bring casseroles of dangerously loving inscriptions of a future that is free and freeing. It is a buffet of radical imaginations of past, present, and future cooperatives fighting for new arrangements of society that facilitate self-determination, intersectional justice, and equity. This meditation and manifesto on food brings into focus how food, its presence, its cultures, its systems, and its work, is vital to any liberatory or emancipatory agenda. Food is not only essential for cultivating multigenerational connection and community outside of the nuclear family structure, as one writer notes, but also for prying apart all sorts of binaries to release new possibilities and futures. When you are done, lick your fingers. They will taste like canned beans left along migrant trails in Arizona, homemade sourdough that stood up against coal giants, and the stew that was a tool to foster closer bonds in the migrant residents of Constitución. There will be nothing to waste."
—Kneo Mokgopa, writer and artist
"Reading Nourishing Resistance fills me with a feeling of possibility, and a renewed appreciation for the transformative power that exists in the simple act of sharing food with those around you. This collection of essays shifts the paradigm away from the binary of frontlines work and support work, and towards a view of movement building that sees everyone's contributions as absolutely essential to the health and viability of the whole movement—from scrubbing dishes to creating a blockade, from jail support to boiling rice. To me, there's nothing more empowering than seeing tangible examples of people using their gifts to cook up unique and life-giving contributions to the social movements around them, and this collection is full of those."
—Ciro Carrillo, Mutual Aid on Lockdown podcast
"Like a song that makes you feel like you can take on the world, this collection of interviews, poetry, essays, and story is a chorus of activists, academics, artists, farmers, writers, sex workers, teachers, and other disruptors, whose writings teach, inspire, and challenge, in offering new visions for what can be when we act on aspirations for a world in which every persons right to food, love, and dignity are taken for granted. The many notes include historical and contemporary pieces on topics that range from radical farming and food sovereignty, the solemnity and pleasure of eating and feeding, fat activism and emerging unapologetically from the margins, immigration and the politics of care, capitalism, and revolution, to celebrating queer joy. Each voice puts a finger on the deep personal and shared relationships we have with food and shows how those can be put in service of creating collective commitments that better sustain our hearts, minds, and hands in connection with the land that gives us life."
—Dr. Jennifer Brady, registered dietitian and director of the School of Nutrition and Dietetics at Acadia University in Mtaban/Wolfville, Mi'kma'ki/Nova Scotia, Turtle Island/Canada
"The collection of rich stories, analytic accounts, and thought-provoking interviews in this book is a wonderful read for anyone curious about or working towards liberatory food cultures today. These activist-writers take us through inspiring and intriguing examples of food as mutual aid, food in practices of decolonization, and food as deeply embedded with rebellion. A beautiful and provocative set of pieces that whet the appetite for cooking up revolution and care."
—Michelle Glowa, assistant professor in the Anthropology and Social Change department at the California Institute of Integral Studies
"Nourishing Resistance transports us from the coal fields of West Virginia to farmer protests in India and far beyond, reminding us of the global role of food and collectivism in the fight against oppression and injustice. A truly humanizing and nourishing anthology that reminds us of the inherent politics and power of food."
—Debbie Weingarten, journalist

About the Contributors
Wren Awry is a writer, editor, and archivist whose work ranges from researching and writing about the role of food in labor strikes, mutual aid projects, and revolt to washing the dishes after community dinners at their local, collectively run social center. They've written about food for publications including Riot & Roux, The Rumpus, Entropy, and Blind Field: A Journal of Cultural Inquiry; and have facilitated various culinary writing classes, including garden poetry for first graders and a community workshop on queer food writing. Most recently, they've been building an online archive of zines related to food and cooking.
Cindy Milstein, a diasporic queer Jewish anarchist, author of Paths toward Utopia: Graphic Explorations of Everyday Anarchism and Anarchism and Its Aspirations, and editor of anthologies such as Rebellious Mourning: The Collective Work of Grief, Deciding for Ourselves: The Promise of Direct Democracy, and There Is Nothing So Whole as a Broken Heart: Mending the World as Jewish Anarchists. Long engaged in anarchistic organizing and social movements, Milstein is passionate about shaping and sharing magical do-it-ourselves spaces with others, such as the Institute for Advanced Troublemaking's Anarchist Summer School and the Montreal Anarchist Bookfair, being a doula for books and mourning, and embodying as much solidarity, collective care, and love as possible.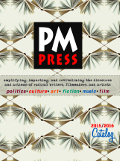 Your cart is currently empty
Subtotal: $0.00