Queercore: How To Punk A Revolution (DVD)
SKU:
queercoredvd
Directors/Producers:
Yony Leyser
Studio:
Altered Innocence
Published:
January 8, 2019
DVD Format:
Dolby, NTSC, Subtitled, Widescreen, Surround Sound
Language:
English
Size:
7.52 x 5.39 x 0.59 inches; 2.57 Ounces
Length:
80 Minutes
Aspect Ratio:
1.78:1
Subjects:
Punk Music/Queer Studies

Started in the 1980s as a fabricated movement intended to punk the punk scene, Queercore quickly became a real-life cultural community of LGBTQ music and movie-making revolutionaries. From the start of the pseudo-movement to the widespread rise of pop artists who used queer identity to push back against gay assimilation and homophobic punk culture, 'Queercore: How to Punk a Revolution' is just that: a how-to-do-it guide for the next generation of queer radicals. The extensive participant list includes Bruce LaBruce, G.B. Jones, Genesis Breyer P-Orridge, John Waters, Justin Vivian Bond, Lynn Breedlove, Silas Howard, Pansy Division, Penny Arcade, Kathleen Hanna, Kim Gordon, Deke Elash, Tom Jennings, Team Dresch, and many more.
Special Features:

Extended/Deleted Interviews with Jayne County, John Waters, Kim Gordon, Dennis Cooper, & Don Bolles.
Original Theatrical Trailer.
Other Trailers.

Official Selection:
Outfest Los Angeles
Frameline
DOC NYC


About the Director:

Yony Leyser grew up in Chicago and relocated to Berlin in 2010. He is the writer and director of three award-winning feature films: William S. Burroughs: A Man Within; Desire Will Set You Free; and Queercore: How to Punk a Revolution. He has received critical acclaim in publications including the New York Times, the Guardian, Sight and Sound, and the Los Angeles Times.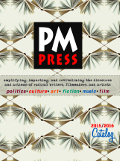 Your cart is currently empty
Subtotal: $0.00