A How-to for Climate Insurgents Combo Pack
Please Note: Combo Packs are not available for any further discount to resale customers or Friends of PM. And sadly, this one is not available to customers outside of the United States.

"Jeremy Brecher's work is astonishing and refreshing; and, God knows, necessary."— Studs Terkel

The combo pack saves you $20 off the individual list prices!

This combo pack includes:
Against Doom: A Climate Insurgency Manual

Climate insurgency is a strategy for using people power to realize our common interest in protecting the climate. It uses mass, global, nonviolent action to challenge the legitimacy of public and corporate officials who are perpetrating climate destruction.
Against Doom: A Climate Insurgency Manual tells how to put that strategy into action—and how it can succeed. It is a handbook for halting global warming and restoring our climate—a how-to for climate insurgents.

Common Preservation: In a Time of Mutual Destruction
As world leaders eschew cooperation to address climate change, nuclear proliferation, economic meltdown, and other threats to our survival, more and more people experience a pervasive sense of dread and despair. Is there anything we can do? What can put us on the course from mutual destruction to common preservation? In the past, social movements have sometimes made rapid and unexpected changes that countered apparently incurable social problems. Jeremy Brecher presents scores of historical examples of people who changed history by adopting strategies of common preservation, showing what we can we learn from past social movements to better confront today's global threats of climate change, war, and economic chaos.
In Common Preservation, Brecher shares his experiences and what he has learned that can help ward off mutual destruction and provides a unique heuristic—a tool kit for thinkers and activists—to understand and create new forms of common preservation.


Save the Humans? Common Preservation in Action

For half a century Jeremy Brecher has been studying and participating in social movements that have created new forms of common preservation. Through entertaining storytelling and personal narrative, Save the Humans? provides a unique and revealing interpretation of how social movements arise and how they change the world. Brecher traces a path that leads from the sitdown strikes on the pyramids of ancient Egypt through America's mass strikes and labor revolts to the struggle against economic globalization to today's battles against climate change.
Weaving together personal experience, scholarly research, and historical interpretation, Jeremy Brecher shows how we can construct a "human survival movement" that could "save the humans." He sums up the theme of this book: "I have seen common preservation—and it works." For those seeking an understanding of social movements and an alternative to denial and despair, there is simply no better place to look than Save the Humans?

See and hear author interviews, book reviews, and other news on Jeremy Brecher's page HERE.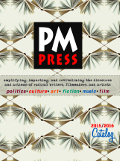 Your cart is currently empty
Subtotal: $0.00