Off with Their Heads: An Antifascist Coloring Book for Adults of All Ages
SKU:
9781629638591
Illustrator:
N.O. Bonzo
Series:
PM Press
ISBN:
9781629638591
Published:
06/2020
Format:
Coloring Book
Size:
8.5x11
Pages:
24
Subjects:
Coloring Books/Antifascism
A coloring book that brings back the whimsy and delight of the olden days, when more often than not it was the maiden who slayed the dragon, and the heads of tyrants were carried off at the end of a pike.
About the Illustrator:
N.O. Bonzo is an anarchist illustrator, printmaker, and muralist based out of Portland, OR. They are the illustrator of Mutual Aid: An Illuminated Factor of Evolution (PM Press, Spring 2021). More of their work can be found at www.nobonzo.com.
See and hear interviews, book reviews, and other news on N.O. Bonzo HERE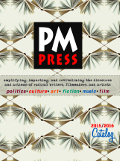 Your cart is currently empty
Subtotal: $0.00