Every Day is May Day Charcoal Gray T-Shirt
Anyone remember the classic industrial dance track "Every Day Is Halloween" by Ministry? Well, we did them one better by coming up with this t-shirt design for the WORKERS of the world.
One day a year is not enough to honor all the work the WE do, so why not celebrate International Workers' Day year round?
Printed on union-made in America shirts the angry black cat image is perfect for Halloween spookiness, workplace sabotage or BOTH!
Cat illustration by Bizhan Khodabandeh.
Available in sizes Small thru 2XL (3XL and 4XL sizes available by special order by contacting [email protected]).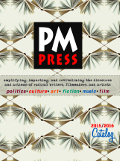 Your cart is currently empty
Subtotal: $0.00